THE SAMOON BRAND STORY – AT A GLANCE.
As a brand, SAMOON always stands for body.
The attitude line "BECAUSE I'M HAPPY" sums up the self-confident "being happy with oneself" of the curvy target group. It's about feeling good in your body and enjoying lovely moments with pleasure and intensity. The col­lec­tions stand for a positive body awareness and convey joie de vivre, because "Beauty has no size!"
SAMOON ONLINE SHOP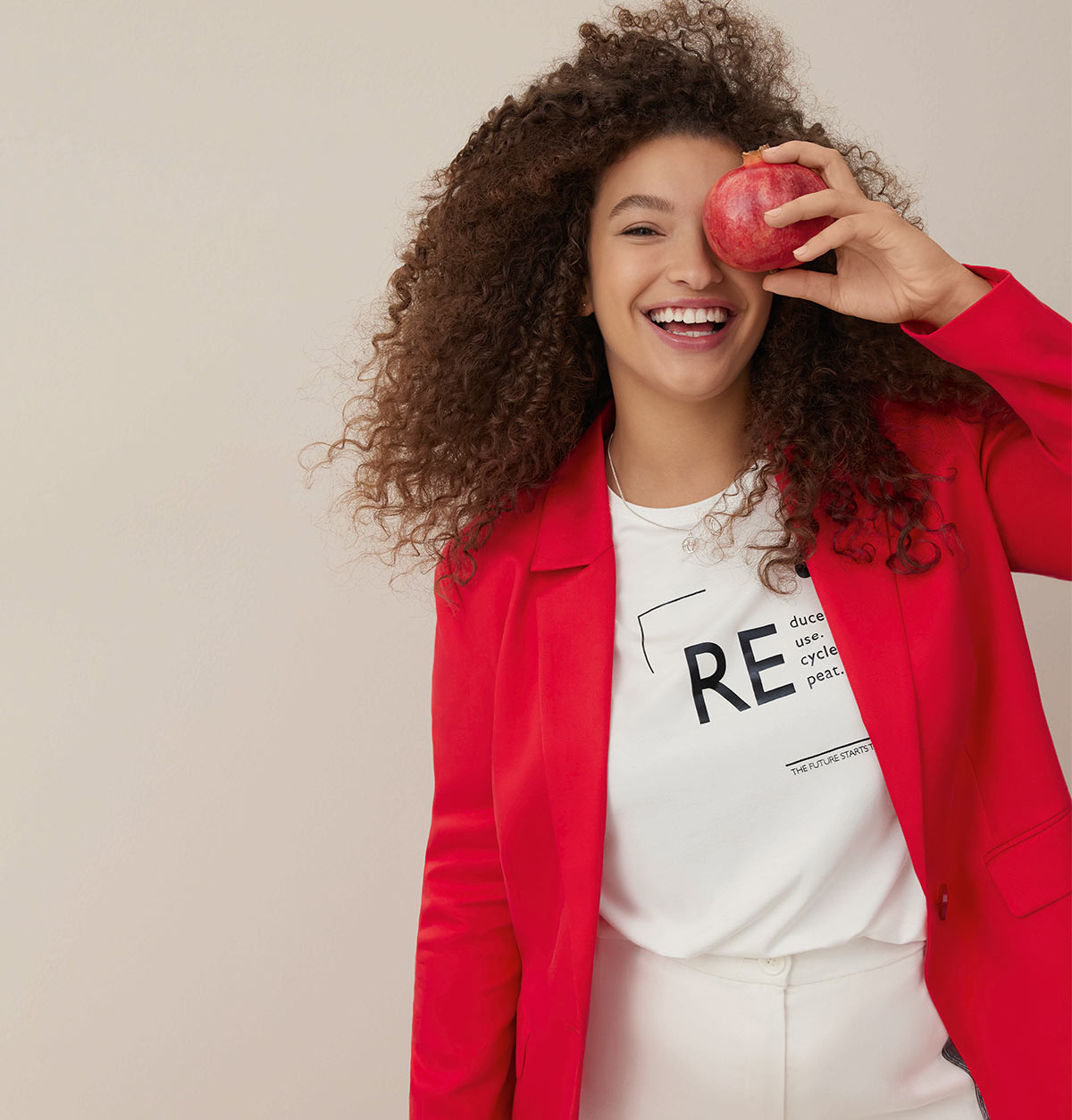 THIS SEASON'S MUST-HAVES
The shift between stillness and power! Feminine elements yet casually relaxed at the same time – spring/summer at SAMOON remains simple and fashionable.

Body positivity is the customers' attitude to life and SAMOON presents lovable summer pieces to match: excellent fit, pleasant materials and high-quality details. Our casual hoodie made of innovative materials is a statement in combination with our new skirts. More favorable must-haves: the transparent long blouse and wide pants, or the blouse jacket paired with jeans. Headliners of the season are most certainly straight jeans – whether washed jeans, jogpants in fine materials or wide, shortened and skinny variants.

These contrasts follow up in our colors: "Sunrise" is our expressive color motto. Strong orange backed up with earthy olive and navy tones. In special focus: "Strawberry Red," ideal in combination with a sophisticated gray. The trendy "Curacao Blue" creates radiant summer feelings in a duet with toffee and latte macchiato tones.

Detailing is discreetly and elegantly integrated into the collection. Tasteful between loud and ease, with fine details and perfect fits. Reinforced by ribbons, gathers and drawstrings, it results in an easy-to-wear look.

Spot on in this collection: materials consecutive to the idea of "sustainability": soft, vegan leather, natural materials such as linen, cotton, Tencel, organic cotton and jersey. Our popular SAMOON jeans styles now get a sustainable upgrade with a recycled cotton content.
Beauty has no size! SAMOON is more than fashion, it is a lifestyle.