THE GERRY WEBER BRAND STORY – AT A GLANCE.
"WE ARE SO GERRY" – In­di­vidu­al, casual, clear and con­vin­cing. This attitude includes everyone – whether as a group or as an in­di­vidu­al.
GERRY WEBER wants to encourage women of all ages to live what they love and be who they really want to be – in and with GERRY WEBER. Age is just a number and rather stands for sov­er­eignty and in­spir­a­tion.
The brand offers re­li­ab­il­ity through expertise in tailoring, fit and material. GERRY WEBER supports women in living their lives in an ex­press­ive and self-de­term­ined way.
CHIC, FEMININE AND INSPIRING
GERRY WEBER is a strong brand for women that want stylish, inspiring fashion. The col­lec­tions are aimed at the modern woman that enjoys her life. Lust for life, in­tel­li­gence and con­fid­ence - in private and pro­fes­sion­al life - are all char­ac­ter­ist­ics of the GERRY WEBER customer. GERRY WEBER col­lec­tions stand for feminine fashion with soph­ist­ic­ated quality and fit.
TO GERRY WEBER ONLINE-SHOP
GERRY WEBER ACCESSORIES are sure to impress through on-trend themes that perfectly complete each and every outfit: scarves, ponchos, stoles, beanies, hats, belts, ac­cessor­ies and gloves. These modern products stand out with lovingly designed details, soph­ist­ic­ated design and a range of high-quality materials.
Together with the GERRY WEBER license portfolio – GERRY WEBER Bags, GERRY WEBER Shoes, GERRY WEBER Eyewear – the GERRY WEBER lifestyle world is complete.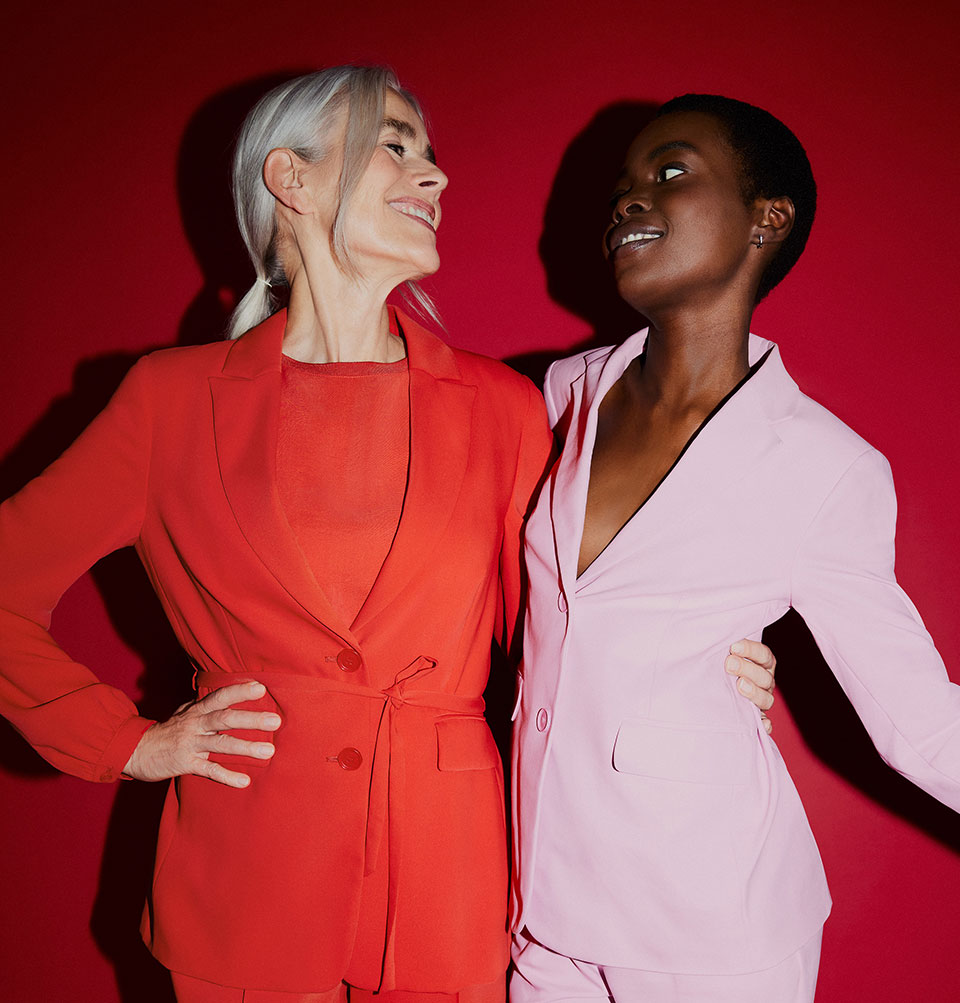 THIS SEASON'S MUST-HAVES
New Life & Full of Confidence – Spring/Summer 2023 season impresses with feminine and refined silhouettes. Occasion is gaining importance, dresses and suits are the clear winners and lend self-confidence.

We enjoy life to its fullest and wear what we love: Whether as a pink pantsuit with a double-breasted suit or a blouse blazer in Fire-Red with wide pants; the theme of ready-to-wear is becoming increasingly important and can be seen via new cuts in blazers and pants as well as fresh and vibrant colors.

Color becomes key; whether as a statement color, whether in monochrome looks or as colorblocking. Feminine, figure-accentuated dresses and playful blouses in natural qualities complement mille fleur prints or graphic retro designs.

We emphasize naturalness and this continues to be the primary credo; cotton and linen as well as lyocell, micromodal and viscose are an integral and large part of the collections.