THE GERRY WEBER BRAND STORY – AT A GLANCE.
GERRY WEBER is committed to fem­in­in­ity and "the GERRY" is regarded as feminine. She is bold, creative, far-sighted and con­nect­ive and is perceived as such. A GERRY WEBER customer always feels inspired, properly dressed and com­fort­able – in and with GERRY WEBER. Because the GERRY WEBER customer wants a brand that un­der­stands her, a brand that she can rely on and that gives her freedom. GERRY WEBER fulfils this re­quire­ment.
The attitude com­mu­nic­a­tion line "WE ARE GERRY" is a joint attitude that many women can identify with. It includes everyone – whether as a group or as in­di­vidu­als. The brand offers re­li­ab­il­ity through ex­cel­lence in cutting technique, fit and material.
CHIC, FEMININE AND INSPIRING
GERRY WEBER is a strong brand for women that want stylish, inspiring fashion. The col­lec­tions are aimed at the modern woman that enjoys her life. Lust for life, in­tel­li­gence and con­fid­ence - in private and pro­fes­sion­al life - are all char­ac­ter­ist­ics of the GERRY WEBER customer. GERRY WEBER col­lec­tions stand for feminine fashion with soph­ist­ic­ated quality and fit.
TO GERRY WEBER ONLINE-SHOP
CASUAL, NATURAL AND FEMININE
GERRY WEBER Casual exudes a light­hearted attitude that underpins in­di­vidu­al looks. The col­lec­tion stands out with strong pieces that are grouped together in clear themes. Unusual details, high-quality materials, har­mo­ni­ous colors and the perfect fit highlight the unique, casual and confident look.
GERRY WEBER ACCESSORIES are sure to impress through on-trend themes that perfectly complete each and every outfit: scarves, ponchos, stoles, beanies, hats, belts, ac­cessor­ies and gloves. These modern products stand out with lovingly designed details, soph­ist­ic­ated design and a range of high-quality materials.
Together with the GERRY WEBER license portfolio – GERRY WEBER Bags, GERRY WEBER Shoes, GERRY WEBER Eyewear, GERRY WEBER Jewelry – the GERRY WEBER lifestyle world is complete.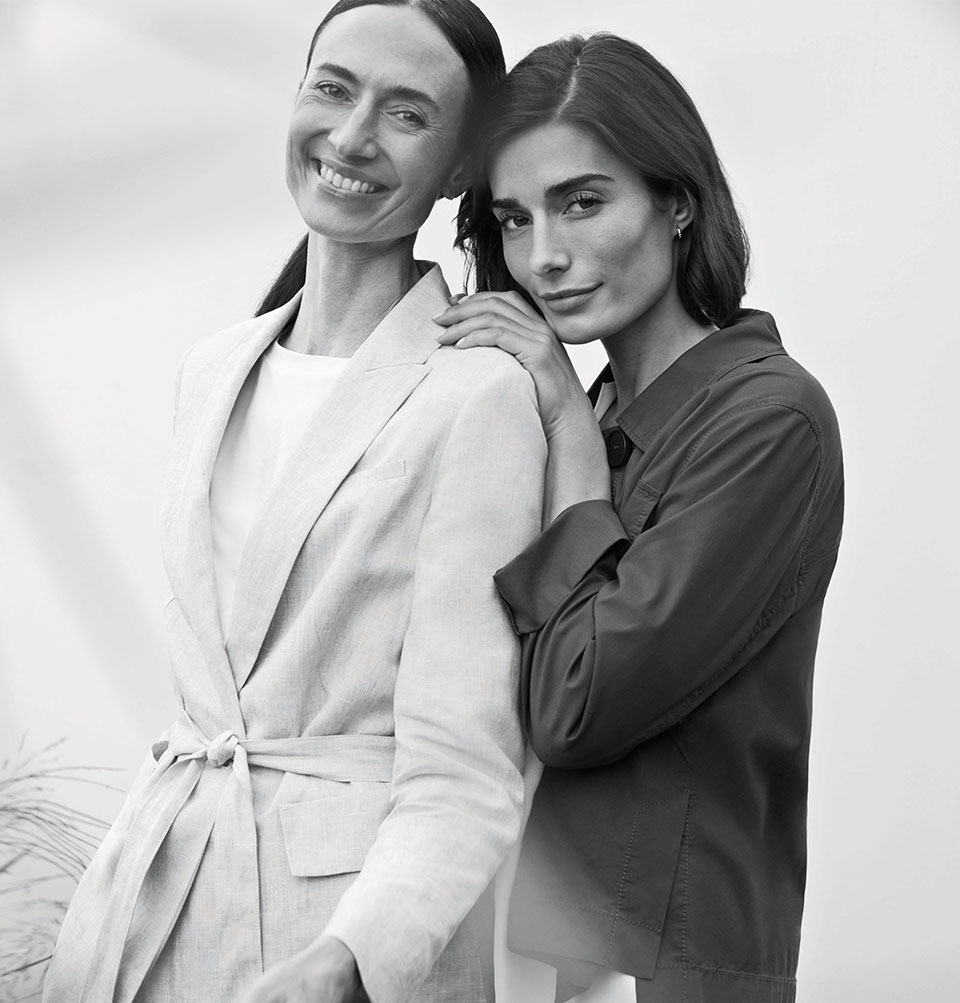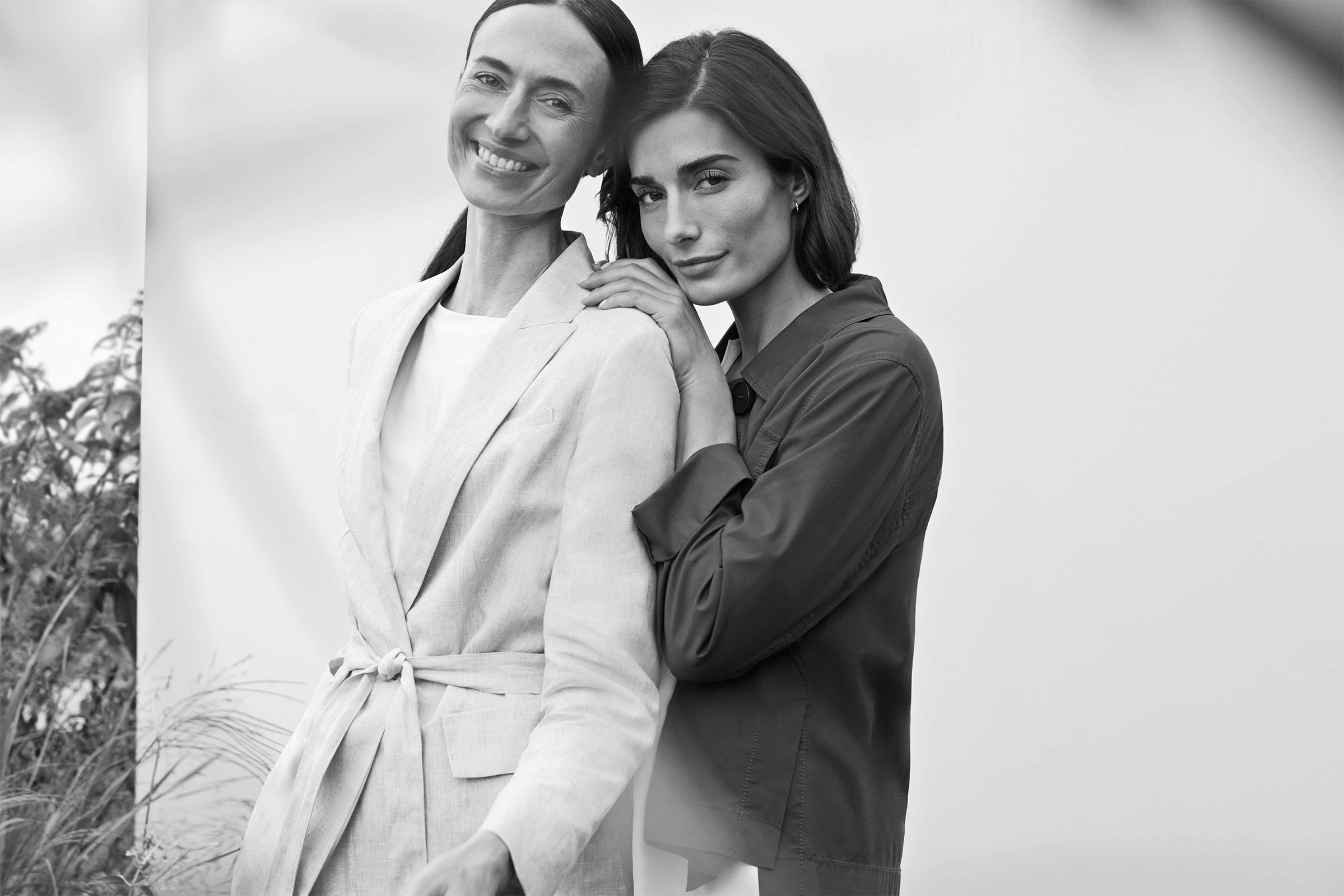 THIS SEASON'S MUST-HAVES
"Back to life" – after the abstinence of the pandemic, this spring asks for "dressed" styles that work perfectly in everyday life as well as in the office. With exciting silhouettes, elegant twists and amazing details, "dressing" is fun again. Suits with athletic influences – whether feminine waisted, or oversized and boxy – are always a bold statement. Must-haves are blue and a bold green pantsuits. The new small men's vest, is ideal for layering. The oversized shirt blouse, the culotte and the overshirts continue to be trendsetters.

"Cosy" is the name of the game when it comes to colors: "Nature meets Pastels". Harmonious tones such as navy, khaki, off-white, sand and brown meet soft pastels such as vanilla, rose and sky blue. Highlights are intense sorbet tones – such as a bright mango.

Newness in accessories: platform soles now in sneakers and also sandals. High-tops and sneaker booties made of canvas, as well as cool mini bags complete the range.

WE CARE – Sustainability and transparency remain in focus! Accordingly, we are increasing our focus even more on the sustainable use of materials and resource-saving dyeing techniques. A large part of the fabrics already consists of linen, Lyocell, GOTS-certified cotton, Tencel and Ecovero viscose.